A Milwaukee for All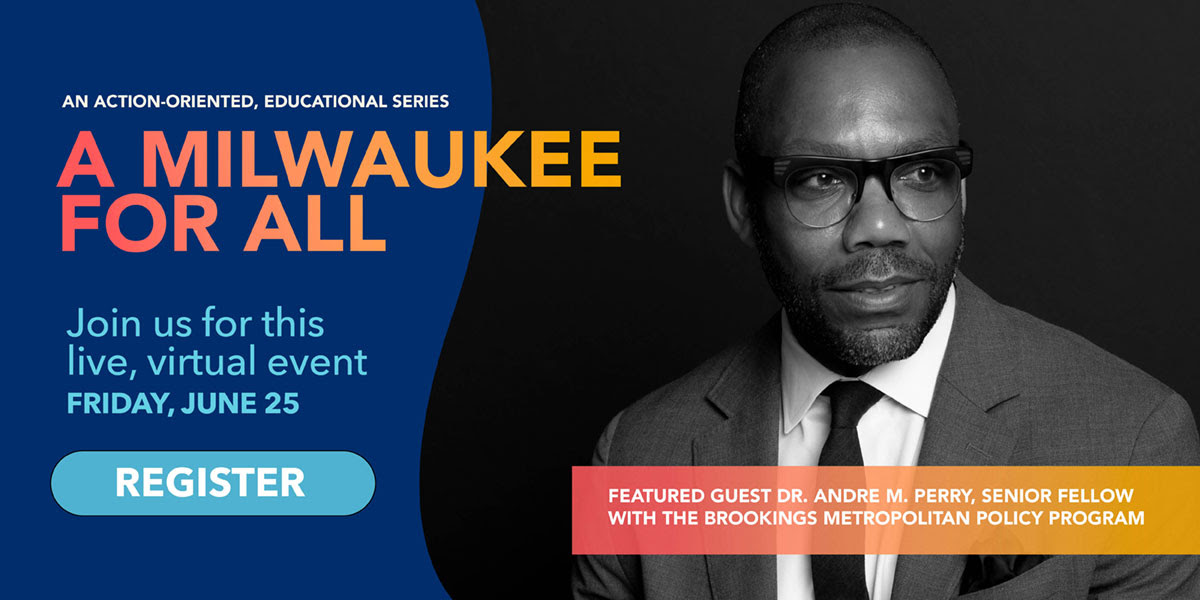 MORE THAN A DOZEN LOCAL LEADERS HAVE BEEN CONFIRMED AS HOSTS for the On the Table MKE conversations that will take place immediately following our conversation on June 25 with Dr. Andre Perry, a nationally respected educator on race, structural inequity and education and author of "Know Your Price: Valuing Black Lives and Property in America's Black Cities."
Choose from among the following topics that morning:
Affordable Housing & Stabilization hosted by Colleen Foley, Legal Aid Society of Milwaukee, & Deborah Heffner, Community Advocates
Anti-Displacement Strategies hosted by Kevin Newell, Royal Capital, & Tony Panciera, MKE United
Decolonizing Philanthropy hosted by Brad Pruitt, America's Black Holocaust Museum, and Cecelia Gore, Brewers Community Foundation
Early Childhood Education hosted by Tamara Johnson, Malaika Early Learning Center, and Ann Terrell, Concordia University
Economic Repair and Reparations hosted by Martha Berry, YWCA Southeast Wisconsin and Fred Royal, NAACP Milwaukee
Entrepreneurship and Wealth Creation hosted by Dana Guthrie, Gateway Capital Partners, and May yer Thao, Wisconsin Housing and Economic Development Authority
Forging a Talent Pipeline hosted by Gladys Manzanet, Northwestern Mutual, and Nancy Hernandez, Hispanic Collaborative
Housing Equity hosted by Deatra Kemp, ACTS Housing and Will Martin, Wisconsin Diversified Investments LLC
Neighborhood and Community Development hosted by Danell Cross, Metcalfe Park Community Bridges, and Darlene C. Russell, Greater Milwaukee Foundation
Social Activism hosted by Jeffery Roman of Milwaukee County Office on African American Affairs
Be prepared to leave the sessions with ideas for individual and collective action! 
Friday, June 25, 2021
9 – 10:30 a.m.
Questions? Contact Anna Januzzi
An ASL interpreter will be provided for the session featuring Dr. Andre Perry. All sessions will be recorded and available for viewing after the event.
This is the first session of a three-part series that welcomes the community to engage with national and local experts to unpack the effects of racism and structural inequity on people, places and systems. Each event incorporates our popular On the Table MKE format for curated conversations guided by local leaders working on community solutions and offers opportunities where you can tap into learning and action following the session.