It's Not JUST About the Donor: The Ultimate Guide to Major Gift Success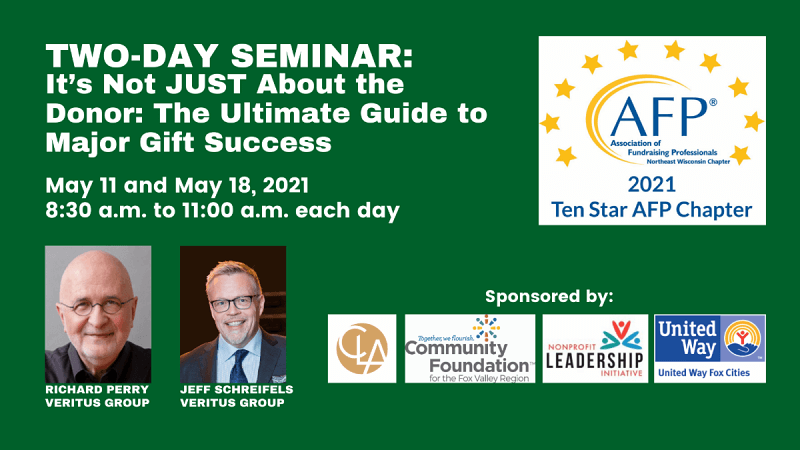 The Association of Fundraising Professionals Northeast Wisconsin Chapter is hosting "It's Not JUST About the Donor: The Ultimate Guide to Major Gift Success:"
"Are you ready to lead your major gifts program, take it to the next level, and uncover what might be holding you back? Join us on May 11th & 18th for a presentation by Jeff Schreifels, Senior Partner at Veritus Group, and Richard Perry, Founding Partner at Veritus Group. Over our two, two-hour sessions, Richard and Jeff will outline the major obstacles across our industry that are holding non-profits back from truly serving their donors and creating authentic, meaningful relationships, and how to make intentional changes to refocus your organization.
In Session #1, we'll begin by discussing the state of the non-profit sector and what Veritus Group has found through analysis of millions of donor records and one-to-one work with fundraisers and leaders across the country.
In between sessions, participants will provide feedback on the topics for the final session and receive valuable materials to begin integrating what they've learned in the training thus far.
In Session #2, Richard and Jeff will provide direct tools, strategies, language, and resources to assist in leading and advocating for change, beginning in your own day-to-day work with donors, and taking small steps to shift your organization's approach to donors.
**BONUS!** Thanks to our sponsors, the $25 registration fee includes a free copy of Jeff and Richard's new book, "It's Not JUST About the Money: The Ultimate (Management) Guide to Major Gift Success" and access to both virtual sessions. To have your book before the first session, register by April 27.
This program will be hosted live through the Zoom platform. Once you register, you'll receive a confirmation email; login details will be emailed closer to the date of the program. We will be recording the program to share with those who register but cannot attend live.
Registration deadline: Monday, May 10, 2021."