Lunch & Learn: Employee Assistance Programs & Managing Stress in the Workplace
The Ozaukee Nonprofit Center is hosting a "Lunch & Learn: Employee Assistance Programs & Managing Stress in the Workplace."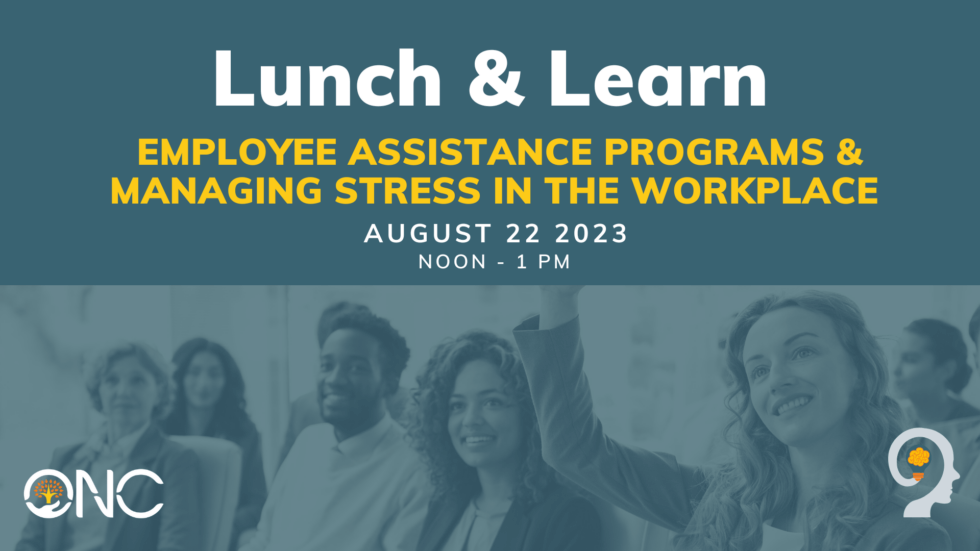 "Join us Tuesday, August 22nd from noon to 1 p.m. for a Lunch & Learn: Employee Assistance Programs & Managing Stress in the Workplace with Suzanne Spaeth and Dawn Zak.
We know stress can come from almost every aspect of life. We have often been told that stress is bad and must be avoided. But, what if there's more to it? This presentation will explore stress, the stress response, and the impact that stress can have on an individual and in a workplace. We will also discuss what an Employee Assistance Program is, how valuable it can be in addressing stress, and how to create a healthy, happy and productive workforce.
Join us during your lunch hour and bring any questions for Suzanne and Dawn!
$10 Non-member fee
Free to ONC Partner, Affiliate and Community Agency Members
Location:
ON Center Event Space at Ozaukee Nonprofit Center, 2360 Dakota Drive, Grafton WI 53024
Suzanne Spaeth, Business Development Specialist, Sr., MS, LPC
Suzanne joined the EAP in 2014 and has been both a Coach and a Counselor for the program before taking on the Business Development Specialist role in 2021. Prior to joining the EAP, Suzanne held private sector jobs in Sales, Marketing/Public Relations and Business Development. She also worked in various school districts as a counselor and AODA education and prevention specialist. Suzanne believes that her role as a counselor has provided her a unique opportunity to share, with current and prospective companies, first-hand knowledge of the positive impact that a mentally healthy workforce can have on employee engagement, productivity, and the bottom line.

Dawn Zak, MS, LPC, CSAC
Dawn is an Employee Assistance Program Account Executive for Advocate Aurora Health Employee Assistance Program (AAH EAP). Dawn works closely with leaders to create well workplaces. She excels at building strong partnerships, assisting companies and their leaders as they work to retain and support their most valuable resource: their employees. In her role she provides consultation and coaching and has developed and delivered numerous supervisor/leader trainings, employee seminars, and community partner presentations. She has extensive clinical/consultation experience in working with both employers and employees.
Dawn obtained her Master's Degree in Counseling at Concordia University. She is a Licensed Professional Counselor and a Clinical Substance Abuse Counselor. Prior to rejoining AAH EAP Dawn had provided mental health and substance abuse counseling services for over 30 years in a variety of settings. She served as the Associate Director at Mental Health America and created workplace wellness/mental health modules for statewide public and private organizations."