Full-Time
Part-Time
Job Type Details: This position may be made into two part time positions.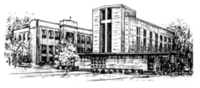 Position Overview
Saint Jude the Apostle Parish is a caring, welcoming, and engaged Catholic community of believers in Christ that promotes growth in faith through fellowship, ministry, education, and service to those in need.
The Communications Coordinator/Office Assistant is responsible for print, digital, and other communications by the Parish, ensuring a consistent tone throughout. Ensures all messaging reflects the mission, vision, and values of Saint Jude the Apostle Parish. They serve as the primary point of contact for those seeking assistance at the Parish office, whether in person, via email, or on the phone. They ensure that the Parish office runs in a welcoming and efficient manner to provide excellent service to others.
Essential Functions
Assists the Pastor and other designated staff in a timely and efficient manner. Greets and refers visitors to the appropriate ministers, services or agencies.
Creates a welcoming and caring reception environment. Answers phone calls to the Parish office and provides excellent customer service in person and on the phone.
Prepares and prints Orders of Worship for weekends, holy days, funerals, and special occasions as requested.
Maintains the offering envelope system.
Establishes and maintains digital office record keeping systems, including the parish database and coordinates database updates with other departments. Contacts households to verify accuracy of information. Supports related parish stewardship efforts.
Assures the development and maintenance of a Sacramental record keeping system. Prepares certificates and other documents related to Sacraments.
Assists parishioners requesting Mass intentions and Mass cards. Schedules Masses and collects stipends.
Completes and sends any needed reports to the Archdiocese, such as the Status Animarum.
Updates general information bulletin boards and/or electronic message signs.
Schedules and maintains system for facility use. Provides information and usage guidelines to outside groups.
Orders office supplies and maintains office equipment in partnership with third party vendors.
Assistant assures proper handling of all postage services, including postage funds for postal meter. Distributes any incoming faxes. Distributes incoming mail and assures outgoing mail is prepared properly. Completes mailings as assigned.
Supports specific parish committees, including Pastoral Council, as assigned by preparing and dispersing the agenda packet, meeting minutes, and assisting in the election process.
Develops content for and systematically updates communications via the Parish website, social media, newsletters, e-newsletters, and other means to ensure Parish members have an understanding of key messages, activities, and opportunities to engage with St. Jude the Apostle Church.
Writes, edits, and issues newsletter articles, website content, social media posts, and other content for the Parish as assigned.
Develops template messages for Parish staff to utilize for phone greetings, email signatures, standard letters, such as welcome mailings, and more.
Assists St. Jude the Apostle School in developing content for their social media channels.
Ensures consistency in messaging across all communication channels.
Develops and deploys content for Parish digital signage.
Maintains Parish brand, logos, and document templates. Provides guidance to other departments on format and presentation of material for distribution. Makes recommendations on ways to use communications tools to advance Saint Jude's mission and vision.
Implements and maintains digital communications tools for Parish to issue parish bulletins.
Reviews communications prepared by others to ensure compliance with brand guidelines and proper grammar.Serves people in need by referring them to appropriate charitable organizations or social agencies in Milwaukee County and beyond.
Additional duties as assigned.
Qualifications
A committed Catholic/Christian who is a person of faith and recognizes their profession as a ministry.
Degree in Communications or similar field preferred.
Experience updating websites, sending mass digital communications, and managing social media for an organization.
Proficiency in Microsoft Office Suite (Word, Excel, Outlook, Publisher) and proficient using a computer.
Data entry experience.
Strong interpersonal and customer service skills with people of all ages and lived experiences.
Excellent organizational skills and oral and written communications skills.
Ability to maintain confidentiality.
Willingness to work with others in a kind, caring, and efficient manner.
Additional Information
Receives supervision from the Director of Administrative Services.
Office open typically 8-4 M-F
Salary commensurate with experience.
Applying for this job? Let them know that you learned about it on Jobs That Help!